Pair of Silver Winchester Bushels, 1923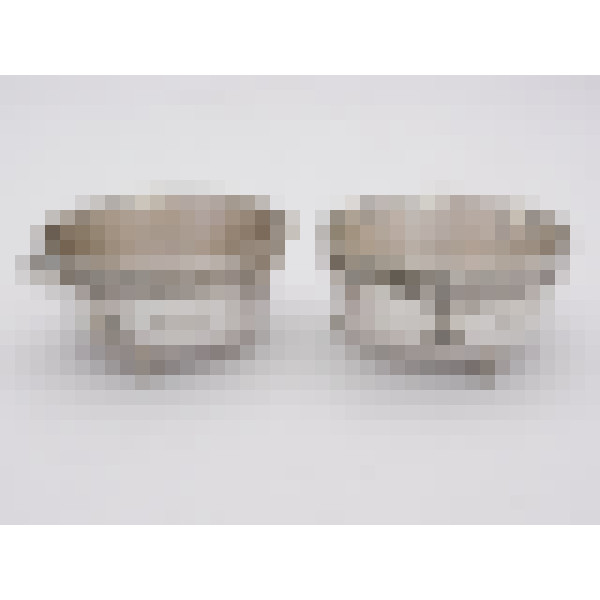 £265.00
Salt Pots (pair) - 'Winchester Bushel' - Birmingham 1923 by F J Ross & Sons - 6.5cm diameter; 3.3cm high; 126g combined weight - HD/4503b
A Winchester bushel is an ancient unit of capacity used to measure dry goods such as wheat and is equal to 2150.42 cubic inches or the volume of a cylinder measuring 18.5" diameter and 8" high.
This is a pair of early 20th century silver dishes in the form of the Winchester bushel and are fine replicas of the measuring vessel. The bowls have two handles and stand on 3 bracket feet. They have an all over planished (spot hammered) finish in the arts & crafts tradition and bear marks for the Winchester High Street retailer F J Ross & Sons. The pair could be used for all manner of purposes as small dishes or as salt pots and would provide an excellent talking point at the dinner table.
The following inscription is applied to the rim: 'Henricus Ceptimus dei Gracia Rex Dauglae et Francie' which translates to "Henry VII, By Grace of God, King of England and France". The following symbols are also applied to the side: a lion rampant, an anchor, a portcullis and a coat of arms.
A bushel is a measure of dry volume that was generally used in agriculture and was an important ancient weight to measure quantity at town markets. Different vessels were used throughout the country and so the measure was never a definitive amount between towns. The Winchester measure is a set of legal standards of volume instituted in the late 15th century by King Henry VII and in use, with some modifications, until the present day. Originally used in Anglo-Saxon Wessex, it formed the basis of the first standardised measures in the UK and was until 1826 when it was replaced by the Imperial Measure, but it is still used in the USA. It consists of the Winchester bushel and its dependent quantities, the peck, (dry) gallon and (dry) quart.