Lion Sejant with Shield Spoon, 1580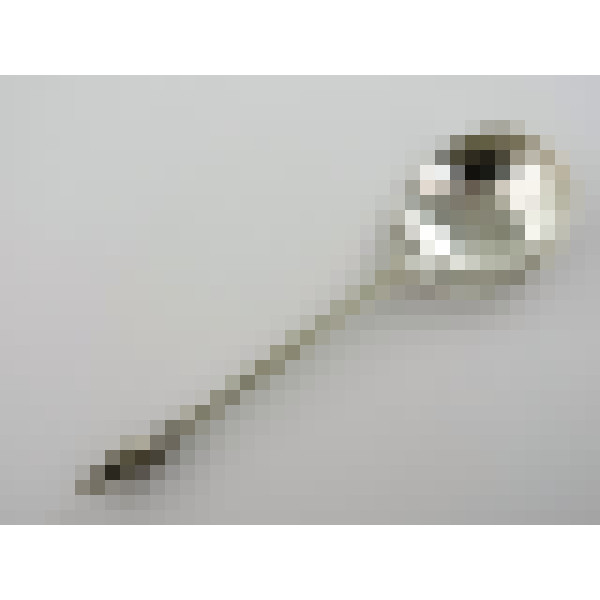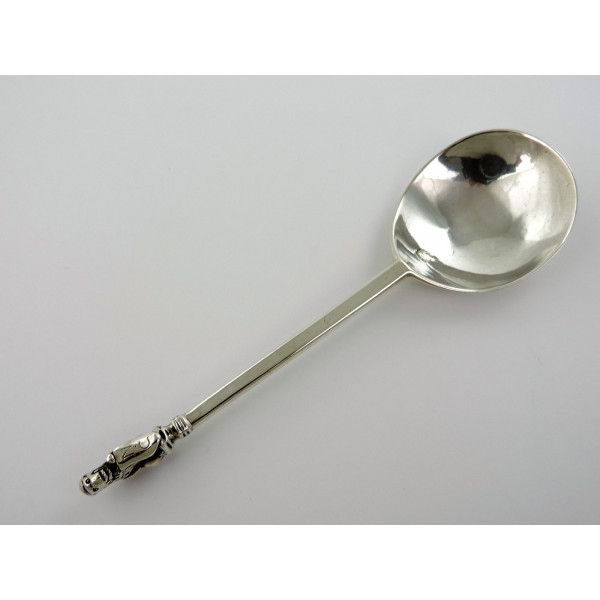 Sold
Spoon - Lion Sejant with Shield - London 1580 by Patrick Brue - 16cm long; 43.5g - OB/7245
This attractive Elizabethan period spoon has a good cast model of a sitting lion to the terminal with its tail protruding from under its body and curling up the back. The lion on this spoon is holding a shield making it a particular rarity! Most extant examples of the rare "Lion Sejant with Shield" spoon have their front legs replaced by the shield, but in this example both legs are present and indeed its left paw is placed on the top of the shield. The lion 's head is turned slightly to its right and the shield bears the initials "NC". The finial retains much of its original detail and is a great example of a very rare type.
The bowl of this spoon is also in excellent condition with a nice thick original rim all the way around. Made in the workshop of the premier specialist spoonmaker, Patrick Brue, this spoon has a good set of hallmarks to the reverse of the hexagonal stem including the mullet over annulet mark of the maker.
"English and Scottish Silver Spoons and pre Elizabethan Hallmarks on English Plate", by Commander G.E.P and Jane Penrice How (Volume III page 138) illustrates a very similar spoon made a decade earlier. This spoon is one from a set of 12 made by Robert Cottrell that last appeared on the market in October 2000 where they sold for £135,000 (inc. buyer's premium). The set is further discussed in "Silver Spoons of Britain 1200-1710" by David Constable on pages 422/3 in Volume one.
The shield on the documented examples bears a coat-of-arms and the spoons have "N.C" engraved initials on the stem and the suggestion is that they once belonged to a member of the Campbell Clan. This Patrick Brue spoon bears the "NC" initials to the shield and the cast model of the lion appears to be the same too. We suggest that there must be a connection!