Hand-wrought Canteen of Cutlery by LGD, 1954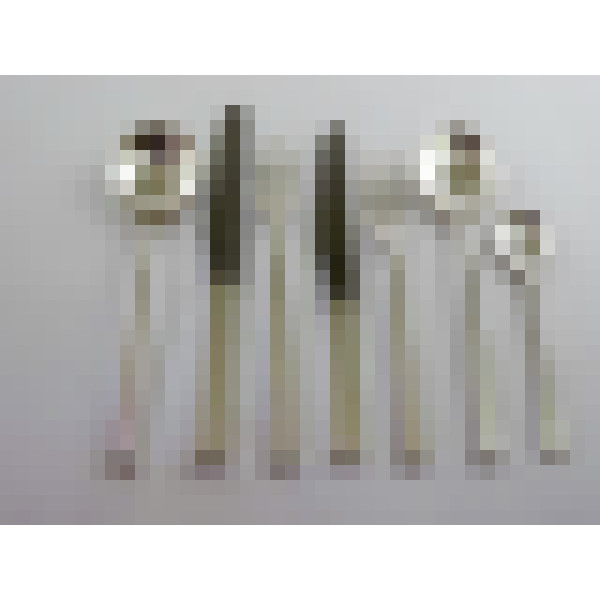 Sold
42-piece Canteen - Hand-made (6 place settings) - London 1954 by Leslie Gordon Durbin - Total Weight: 1230 grams (39.6 tr.oz.) - Ref: CF/9781a
Canteen of Hand-made Silver Cutlery, London 1954 by Leslie Durbin
The Service
We are pleased to be offering the opportunity to own a very rare hand-wrought silver cutlery set by one of the most important post-war British silversmiths – Leslie Durbin.
This is the first canteen of silver cutlery that we have encountered bearing the LGD maker's mark of Durbin and it has all the high quality features that you would expect from this maker. The pieces have a lovely elegant shape with a slightly tapering handle that terminates in a delicately engraved trim.
This stylish 1950's service provides for seven pieces per 6 place settings.
All the pieces in this canteen were made by Leslie Durbin and bear appropriate Sterling silver hallmarks for London 1954 (the teaspoons are hallmarked 1955).
The service has six of all the standard dining pieces. The soup spoons and dessert spoons are of a very similar style to each other with the soup spoons having a deeper bowl. With their 3-prongs, the style of the forks hark back to the early 18th century, before 4-prongs became the standard. The knives have silver handles with stainless steel blades.
The Maker
Leslie Gordon Durbin was apprenticed and employed for many years to the most important English silversmith of the 20th century, Omar Ramsden. In the traditions of the arts & crafts movement, his work is entirely hand-made and often influenced by his master with the rattail on the reverse of the spoon bowls very much a feature of Ramsden cutlery. The style of this service is very much indicative of the immediate post-war years with a retention of Art Deco streamlining and simple, austerity-year's detailing. Silver and other luxury goods were heavily taxed during the 1950's, so little survives making this service all the more desirable.
Components
This 42-piece service consists of the following:
| | |
| --- | --- |
| 6 Soup Spoons 18cm | 8 Dessert Forks 16.8cm |
| 8 Table Knives 21cm | 8 Dessert Spoons 18cm |
| 8 Table/dinner Forks 18cm | 8 Teaspoons 12.6cm |
| 8 Dessert Knives 19cm | |
Total weight of weighable silver 1230 grams (39.6 troy ounces) plus 12 silver handled knives.
Condition
The service is in excellent, polished condition throughout with no engravings. There is a line of pitting on some of the knife blades (shown in final photo).
Extra Pieces
The service was originally for 8 people, but sadly one dessert knife is now missing; we can supply any of the extra pieces on request. There are also some serving spoons, a single example of which can be seen in the photo/link below.
Presentation
This canteen is presented within four Robert Welch (another famous silversmith) felt cutlery rolls with each piece having an individual slot.
As with all the canteens available from our web-site, we are happy to send a sample place setting for approval, on receipt of a fully refundable surety payment, prior to purchasing this canteen.