Georgian Silver-gilt Dessert Set for 18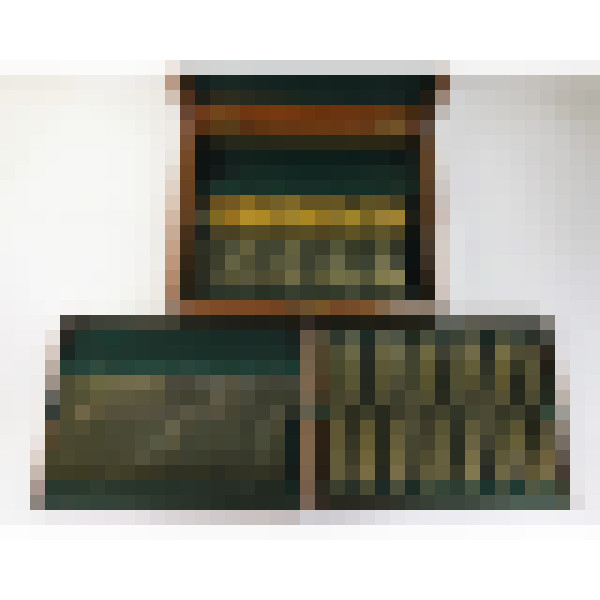 Sold
Dessert Service (54 pieces) - Fiddle & Thread; Gilt (18 place settings) - Hallmark: London 1801 by Eley & Fearn (knives by Moses Brent) - Gross combined weight: 2775g (89.2 tr.oz.) - Ref. No.: FS/1574
Georgian 54-piece Silver-gilt Fiddle & Thread Canteen of Cutlery,
London 1801 by Eley & Fearn (& Moses Brent)
The Service
We are pleased to be offering a superb early 19th century, boxed, silver-gilt dessert service for up to 18 people in the desirable Fiddle & Thread Pattern.
This is a straight service, with all the forks and spoons hand wrought in London by William Eley & William Fearn (specialist spoon and fork makers) and the knives by Moses Brent (specialist knife maker). Each piece is hallmarked for London 1801.
Every piece is gilt all over with a lovely yellow gold colour that is typical of the Georgian period. As well as enhancing the beautiful appearance, the gilding also has the practical function of protecting the silver from potentially corrosive fruit acids.
All pieces bear the same eagle crest. The engraved crest is located to the front of the spoons and knives, and to the reverse side of the forks in traditional style (forks were laid with prongs facing the table).
Fiddle & Thread Pattern
Fiddle Pattern was the dominant flatware pattern of 19th Century Britain, however it stemmed from the same shaped French pattern that had a thread design running around the border. In the UK this became known as Fiddle & Thread. It is a very popular pattern as it treads the fine line between a completely plain design and an ornate design.
Components
This 54-piece service consists of the following:
18 Dessert Knives – 22cm long – 1185 grams (with filled handles)
18 Dessert Forks – 22cm long – 825 grams
18 Dessert Spoons – 22cm long – 765 grams
Condition
For a dessert service of this period the condition is outstanding.
The forks tines remain full and equal length, all the knife handles remain solidly in place and the spoon bowls are unworn with nice thick tips. The engraved crests are crisp throughout and the gilding unworn. The set looks to have had little use.
The wooden box is generally fine too with just some minor shrinkage cracks and scratches to the top. The inside is in fine condition throughout and the original key is present.
Presentation
This canteen is beautifully presented in an oak box with green baize internal lining. Each piece has an individual slot to prevent scuffing with neighbours.
As with all the canteens available from our web-site, we are happy to send a sample place setting for approval, on receipt of a fully refundable surety payment, prior to purchasing this canteen.