Apostle Spoon, Exeter 1666 by Samuel Cawley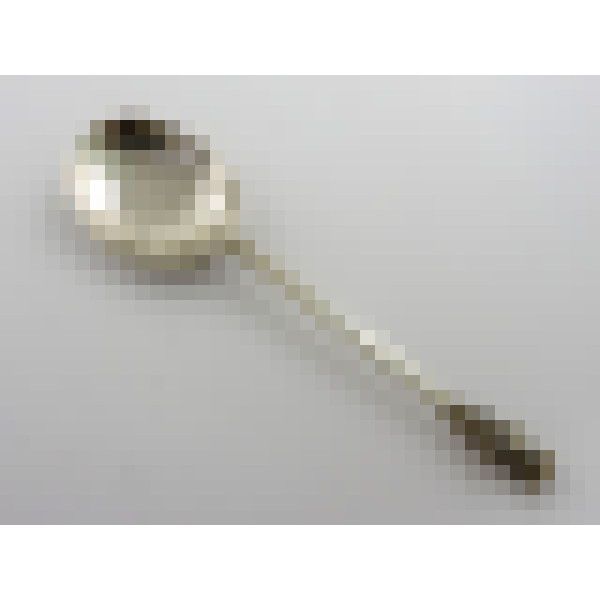 Sold
Spoon - Apostle - Exeter c.1650 by Samuel Cawley - 19.8cm long; 57g - SY/8153
With a quick glance the marks on this Charles II period silver apostle resemble those of early 17th century London hallmarks, however they do in fact belong to an Exeter maker and have an interesting back story.
Samuel Cawley I was admitted as a freeman to the city of Exeter in 1645 and as a staunch Royalist would have needed to lie low during the Commonwealth period. During the 1650's onwards he used a series of mark that resemble London hallmarks and have in modern days been termed as the "London Forgery Group". They are not forgeries and were not intended to deceive. The marks on this spoon are from this group with the central mark on the stem resembling a lion passant and the one to its right looking like the date letter for 1618. See "West Country Silver Spoons & their Makers" by Timothy Kent (pages 5, 73-74, fig 9/10 and plate I).
This apostle spoon portrays a model of St Jude to the terminal with a scared dove nimbus. It has a flat, plank-like stem and generously sized bowl - both typical features of post Restoration spoons. The spoon shows a large amount of pitting/flaws to the inside of the bowl and a number of minor bumps too that add "character"! It may well have been that a recycled piece of silver was used in its manufacture. The bowl retains its full shape and in all other ways the spoon is in fine condition.
A particularly pleasing feature can be found to the reverse side of the bowl where original "IW" over "IB" dot-pricked betrothal initials can be found with the bonus of the 1666 Great Fire of London date.
A great spoon!