72 piece Grecian Canteen, 1875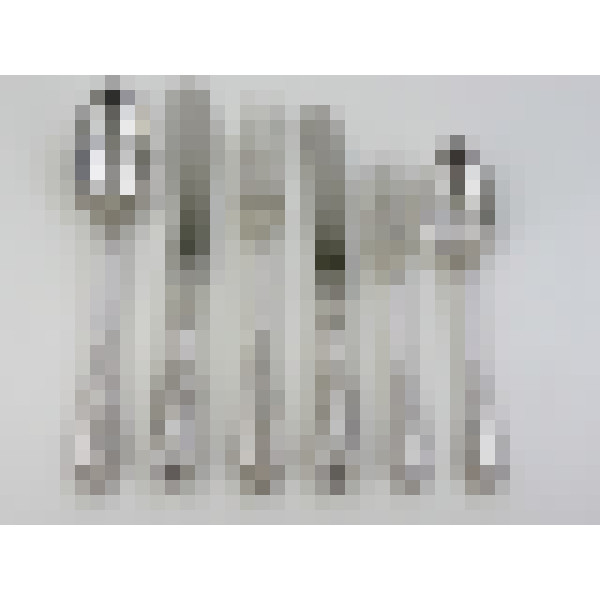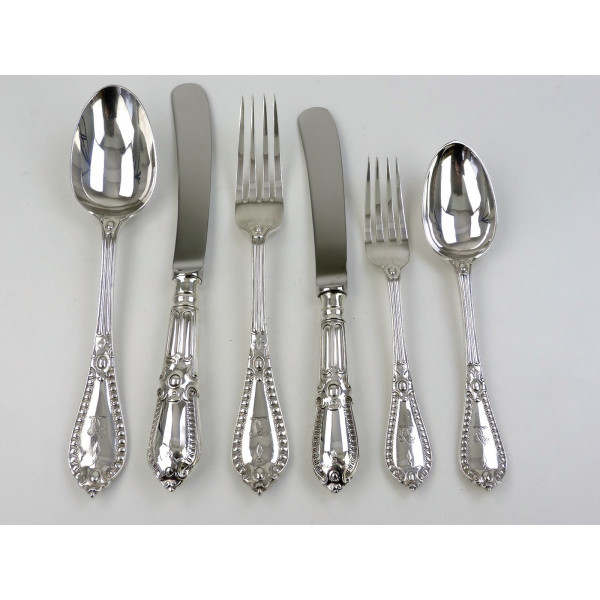 Sold
72 piece Canteen &ndash; Grecian Pattern (12 place settings) - Hallmark: London 1875 - 1877 by George Adams&nbsp; &ndash; Weight: 4010 grams (129 tr.oz.) + 24 knives -&nbsp;Ref. No.: PL/4163</p>
72-piece Silver Canteen of Cutlery, London 1875 by George Adams
The Service
We are proud to be offering a fantastic quality 12-place settings silver Victorian period canteen in the sought after Grecian Pattern.
All the spoons and forks were hand-wrought in London by the very best flatware makers of the Victorian period – Chawner & Company and bear the GA makers mark of the owner, George Adams. All the spoons and forks bear an original engraved crest of a squirrel to the front terminals and are of the very highest quality.
The silver handled knives with stainless steel blades are new and have been supplied to match with hallmarks for Sheffield 2018. These are top quality knives with a fabulous feel to them.
Grecian Pattern
Grecian Pattern was first produced by Chawner & Company in 1850 in readiness for the Great Exhibition at the Crystal Palace. The design is a good example of Victorian Gothic architecturalism and is a much sought after flatware pattern today. The best examples, as in the case of this service, have the decoration displayed on both sides of the stem ("double-struck") and so a good thick gauge of silver is required in its production.
Components
This 72-piece service consists of the following:
| | |
| --- | --- |
| 12 Table/dinner Knives 25cm | 12 Dessert Knives 22.5cm |
| 12 Table/dinner Forks 21.5cm | 12 Dessert Spoons 18.2cm |
| 12 Table/Serving Spoons 22.2cm | 12 Dessert Forks 17.6cm |
Total weight of weighable silver 4010 grams (129 troy ounces). Additional to this weight are the 24 silver handled knives.
Condition
This service is in excellent condition throughout with crisp decoration, full length fork tines and unworn spoon bowls. To find a Victorian service in this pattern and in this fabulous condition is quite a coup.
Presentation
This canteen is offered loose. We can supply anti-tarnish cutlery rolls on request. These navy blue rolls have individual pockets to hold 12 items per roll and are available for £15 each.
As with all the canteens available from our web-site, we are happy to send a sample place setting for approval, on receipt of a fully refundable surety payment, prior to purchasing this canteen.