124 Piece Harley Pattern Canteen, 1986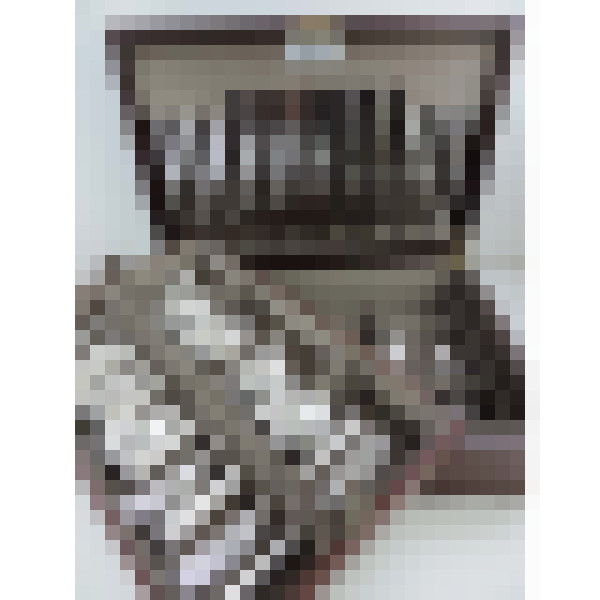 Sold
124 piece Canteen &ndash; Harley Pattern (12 place settings); Boxed - Hallmark: Sheffield 1986/7 by Birmingham Mint &ndash; Weight: 5160 grams (166 tr.oz.) - Ref. No.: HN/4799</p>
124 piece Harley Pattern Boxed Canteen, Sheffield 1986/7 by Birmingham Mint
The Service
We are pleased to be offering a great opportunity to own a boxed silver cutlery set in the very stylish Harley Pattern. This service provides for ten pieces per 12 place settings with 4 additional serving spoons.
All the pieces in this canteen were made in Sheffield for Birmingham Mint and bear appropriate Sterling silver hallmarks for Sheffield 1986/7.
Harley pattern is a very stylish flatware design with squared off end in the Art Deco manner. The service is in mint condition and is unlikely to have ever been used. It is contained within an Argentum wooden "Balmoral" box.
Components
This 124-piece service consists of the following:
| | |
| --- | --- |
| 12 Soup Spoons (round bowls) 17.8cm | 12 Teaspoons 13.8cm |
| 12 Table/dinner Forks 20cm | 12 Coffee Spoons 11.6cm |
| 12 Table Knives 24.5cm | 12 Fish Knives 20.5cm |
| 12 Dessert Forks 18cm | 12 Fish Forks 17cm |
| 12 Dessert Knives 22cm | 4 Table/serving Spoons 22cm |
| 12 Dessert Spoons 18.3cm | |
Total weight of weighable silver 5160 grams (166 troy ounces) plus 24 silver handled knives.
Condition
Excellent polished condition throughout. Mint.
Presentation
This canteen is presented within an Argentum wooden box – the style of box is known as "The Balmoral". The knives are contained within the hinged cover and the other pieces spread out amongst the removable tray and the lower compartment. There is space to add further pieces if required.
As with all the canteens available from our web-site, we are happy to send a sample place setting for approval, on receipt of a fully refundable surety payment, prior to purchasing this canteen.