12 person Fiddle Pattern Dining Service, 1830's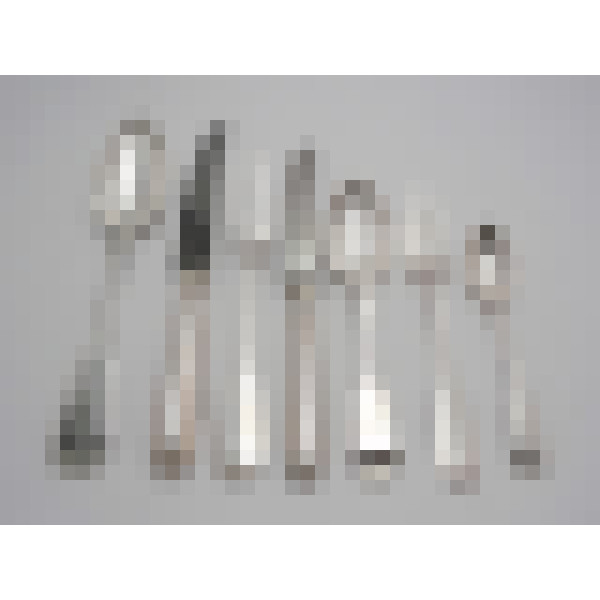 £4,650.00
60 piece Canteen - Fiddle Pattern (12 place settings) - Hallmark: London 1824-52 by Lias & Son - Weight: 3570 grams (114.8 tr.oz.) - Ref. No.: ZP/1753
87-piece Fiddle Pattern Canteen, London 1824-52 by Lias & Son
The Service
We are pleased to be offering a rare opportunity to buy a top quality, silver 12 place settings canteen in Fiddle Pattern with all the spoons, forks and servers made in the same silversmithing workshop and every item being in excellent polished condition with no engravings.
The service is complemented with modern silver handled knives and provides for seven standard pieces per 12 place settings together with some useful serving items.
All the spoons and forks were hand wrought in London and made by the premier flatware specialist Lias & Son between 1824 and 1852.
Fifty-two of the sixty-three antique pieces were made during the 1830's (11 table spoons, 6 table forks, 9 dessert spoons, 12 dessert forks, 12 teaspoons and 2 servers), with four others from the 1820's and the remaining seven from the 1850's. The canteen is mostly made up of runs of 6 (e.g. the dinner forks comprise a set of 6 from 1832 and another from 1852) and each dozen matches extremely well together, so that it is only by studying the hallmarks that the difference in dates made can be spotted.
The soup spoons in this service are in the standard oval bowled form of the 19th century where soup was supped from the side of the bowl – these table spoons are also useful for serving purposes. The teaspoons are 5.6" long and can also have a dual purpose for use with certain desserts (e.g. mousse and creme brulee).
The three servers include a fabulous 12" long basting spoon which is also ideal for serving. Plus a useful sauce ladle and master butter knife.
Antique knives rarely survive in good condition and often have ivory handles. The modern knives that partner this set are the typical style that would have accompanied fiddle pattern during the 19th century (n.b. fiddle-shaped knives did not exist at this time). The twenty-four knives are hallmarked Sheffield 1973 and made by William Yates.
Fiddle Pattern
Fiddle Pattern was the dominant flatware pattern of 19th Century Britain. It was by far the most popular pattern from 1810 until 1880. Production was largely discontinued in 1914, as the original dies for hand wrought fiddle pattern were destroyed during the First World War. As the pattern has rarely been made since, the design is distinctively 19th Century and is extremely popular today for people wishing to have antique cutlery.
The Maker
All the spoons and forks were hand wrought in London by the specialist flatware makers, Lias & Son. During the 1820's and 30's, the partnership consisted of John Lias and his two sons Henry and Charles (maker's mark IL/HL/CL). By the early 1850's, the partnership comprised of Henry and his own son, also called Henry (HL/HL). Also by this date, the firm was noted to have stood at the Great Exhibition of 1851 and were displaying all manner of silver articles.
Components
This 87-piece service consists of the following:
| | |
| --- | --- |
| 12 Table/soup Spoons 22cm | 12 Dessert Forks 17.6cm |
| 12 Table/dinner Knives 24.8cm | 12 Teaspoons 14cm |
| 12 Table/dinner Forks 20cm | Basting Spoon 30cm |
| 12 Dessert Knives 22.5cm | Sauce Ladle 18cm |
| 12 Dessert Spoons 17.6cm | Butter Knife 20cm |
Total weight of silver 3570 grams (114.8 troy ounces), plus 24 silver handled knives.
Optional Extras
We have a huge stock of fiddle pattern by a variety of makers and could either add extra pieces to this service or supply additional serving items to complement it. Further details can be provided on request.
Condition
Excellent polished condition with no engravings throughout.
Presentation
This canteen is offered in seven new anti-tarnish cutlery rolls with the servers supplied loose. These navy blue rolls have individual pockets and hold 12 items each.
As with all the canteens available from our web-site, we are happy to send a sample place setting for approval, on receipt of a fully refundable surety payment, prior to purchasing this canteen.