Queen's Pattern 12 Place Settings Canteen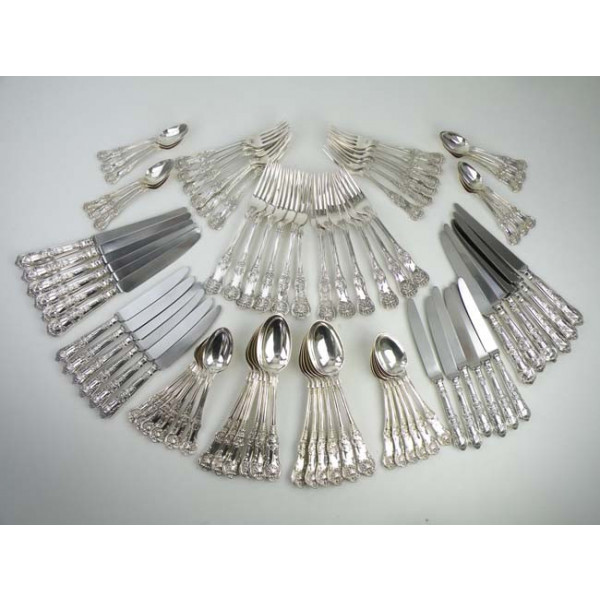 Sold
84 piece Canteen Queen&rsquo;s Pattern (12 place settings) - Hallmark: London 1829 -1910 , by mixed makers &ndash; Weight: 4460 grams (143.4 tr.oz.) - Ref. No.: QP/M1463</p>
The Service
This is a mixed dates and makers, 12 place settings silver canteen in the highly sought after Queen's Pattern. The service provides for seven pieces per 12 place settings.
The majority of the flatware (spoons and forks) date from the reign of Queen Victoria (1837-1901), however there are a few slightly earlier pieces with the oldest dating from 1829. All the flatware was hand-wrought in the traditional fashion of the London silversmiths and has double-struck decoration in high relief. They are well matched in terms of length and proportions and would look beautiful on any dining table.
Antique knives rarely survive in good order, so the standard practice is to use modern Sheffield made knives with stainless steel blades as practicable accompaniments: this is the case with this service where all the dessert knives date from 1990 and the table knives from 2003.
This canteen benefits from bearing neither engraved initials nor crests. Most of the pieces have been professionally erased of any old engravings.
Queen's Pattern
Queen's Pattern was first in fashion in the 1820's and was named in honour of Queen Caroline of Brunswick (King George IV's wife). The highly ornate decoration found on Queen's Pattern demands that each piece is made with a thick gauge of silver and thus makes it one of the most prestigious flatware patterns. It is generally found with engraved crests or initials to the front terminals.
Components
This 84-piece service consists of the following:
| | | |
| --- | --- | --- |
| 12 Table/soup Spoons | 12 Dessert Forks | 12 Dessert Knives |
| 12 Table/dinner Forks | 12 Teaspoons | |
| 12 Dessert Spoons | 12 Table Knives | |
Optional Extras
We have a huge range of Queen's Pattern in stock and will be happy to quote for any additional pieces that may be required to suit your needs. We can augment the size of the service or supply appropriate serving pieces.
Condition
Excellent polished condition. The bowls are unworn and the tines are full and equal in length. The double struck decoration remains crisp.
For a London made Queen's Pattern service, this canteen is extremely good value, this is because many of the pieces have been professionally erased of previous engravings to the cartouche on the front terminal with subsequent minor wear to the surrounding decoration. This can be seen as a positive or negative dependent upon your own thoughts as to the presence of engravings. Finding London-made Queens Pattern in original condition without engravings is very difficult.
Presentation
This canteen is supplied in navy blue anti-tarnish cutlery rolls. Each roll has individual pockets to hold 12 items per roll.
As with all the canteens available from our web-site, we are happy to send a sample place setting for approval, on receipt of a fully refundable surety payment, prior to purchasing this canteen.