Huge 330-piece Hunt & Roskell Canteen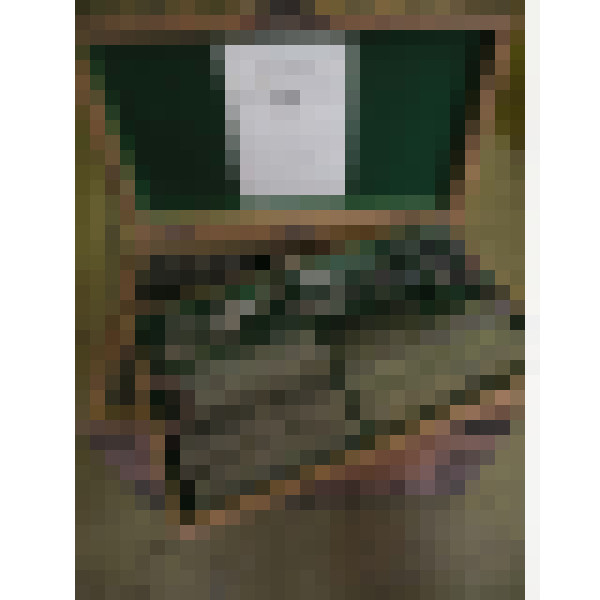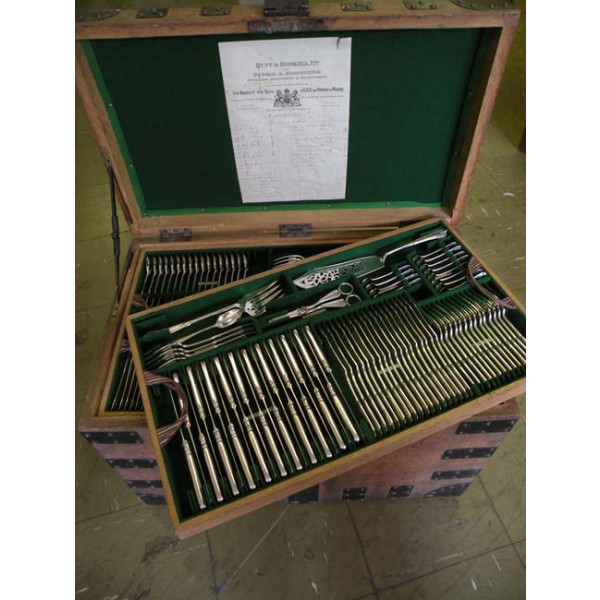 Sold
<p>330-piece Canteen &ndash; Hanoverian Rattail Pattern - Hallmark: London 1911 by Hunt &amp; Roskell &ndash; Weight: 16,645 grams (535 tr.oz.) - Ref. No.: PCHR/3646</p>
330-piece Hanoverian Rattail Pattern Silver Canteen, London 1911 by Hunt & Roskell
The Service
We are pleased to be offering a huge 330-piece silver canteen in Hanoverian Rattail Pattern. This extensive cutlery and flatware service provides for everything you might require for fine dining with pieces to cover fish, soup, entrée, dessert, cheese, fruit and tea/coffee courses, plus a large array of serving items.
Remarkably, this is a straight service with all the pieces bearing Sterling hallmarks for London 1911 by Hunt & Roskell.
The service is contained within its original iron bound chest with 8 removable trays lined with green baize. There are plenty of extra spaces in the box, plus a large space at the base for adding extra pieces if required.
The original Hunt & Roskell inventory is attached to the inside of the chest cover. Hunt & Roskell were the premier UK silver retailers during the reign of Queen Victoria and in to the early 20th century. They were formerly known as Storr & Mortimer: Paul Storr was the most important silversmith of the 19th century. They had Royal patronage and as can be seen from the inventory header were "by appointment" to King George V and to the Prince of Wales (later King Edward VIII).
Each piece is engraved to the front with an attractive crest. The service has an interesting provenance and will probably have been used by a future King during the 1930's!
Hanoverian Rattail Pattern
Hanoverian Rattail was first in fashion between 1710 and 1730 and has been reproduced since the 1880's. It was the first flatware pattern in the UK to be used for complete canteens. The forks made during this period had 3-prongs, it was not until circa 1770 that the 4-pronged fork was first invented. Due to its elegant lines and proportions it has continued to enjoy great popularity and is probably the most sought after traditional pattern. The front of each piece has a distinctive central ridge, whilst the spoons have the trademark rattail extension to the handle on the reverse side of the bowl.
Components
This 330-piece service consists of the following:
Tray 1:
| | |
| --- | --- |
| 18 Fish Knives | 22 Dessert/cheese Knives |
| 18 Fish Forks | 12 Salt Spoons |
| Pair Fish Servers | Grape Scissors |
The fish course items are in a Rococo scroll pattern to differentiate from the rest of the service. The dozen salt spoons each have gilt (gold-wash) bowls to protect from the corrosive effects of salt. The cheese knives are fitted with stainless steel blades and there are slots for 24. The grape scissors are an unusual and welcome addition.
Tray 2:
| | |
| --- | --- |
| 54 Table Forks | 18 Teaspoons |
| 24 Dessert Forks | 6 Butter Knives |
The 54 table forks all lined up together make a fantastic statement. The two sizes of forks have 3-prongs as would have been produced in the early Georgian period (1710-1770). The teaspoons are the larger 5.4" size that can be used for a variety of purposes beyond the tea ceremony (e.g. sorbets and mousses). The six butter knives are of the superior one piece variety and there is enough of them to be conveniently located around the table.
Tray 3:
These are large dinner knives that are still fitted with their original carbon steel blades engraved "Hunt & Roskell". The blades are characteristically sharp and in generally fine condition – although they have some corrosion spots that one would expect in steel blades. There are a total of 54 slots, so there is scope to add extra table knives with stainless steel blades if preferred (we can supply).
Tray 4:
| | |
| --- | --- |
| 18 Dessert Spoons | 2 Sugar Shovels |
| 17 Soup Spoons | 2 Cream Ladles |
| 18 Coffee Spoons | 2 Sugar Sifter Spoons |
| 6 Mustard Spoons | |
The dessert spoons are in their standard form and there are slots for a further 6 if required. The soup spoons are oval bowled and in between dessert and table spoon in length. After-dinner coffee is amply provided for with a sugar shovel and cream ladle for both ends of the table. The sifter spoons can be used to sprinkle sugar over fruit and the mustard spoons can be appropriately spread around the table. The mustard spoons, cream ladles and sifter spoons all have gilt (gold-wash) bowls.
Tray 5:
| | |
| --- | --- |
| 2 Soup Ladles | 6 Sauce Ladles |
| 15 Table Spoons | 4 Gravy/Basting Spoons |
This tray contains the large serving pieces. The two large soup ladles each have a good hefty weight of 10tr.oz. each. The 15 table spoons (with slots for 3 more) are useful multi-purpose serving spoons and the 12" long gravy spoons can be used for ceremonially basting the meat, or for serving when a longer handle or larger bowl is required. The half dozen sauce ladles means that there are plenty to go around the table.
Tray 6:
| | |
| --- | --- |
| 4 Salad Servers | Asparagus Tongs |
| 2 pairs of Sugar Tongs | 18 Egg Spoons |
The 11.5" long salad servers are presented in pairs with a deep bowled spoon and a similar one with fork tines (spork). As few people use sugar cubes these days, the use of the sugar tongs could be creatively adapted to an alternative purpose. The inclusion of a pair of asparagus tongs is always indicative of the very finest canteens and the quality of this pair is outstanding. The 18 egg spoons have gilt bowls and give a further option at breakfast, but are also useful for creme brulee!
Base:-
To find 4 sauceboats within a canteen is most unusual and this is very attractive Adams style set. Each piece has an oval pedestal foot and elegantly looped handle. There are two small empty trays at the base of the box which according to the inventory would have held ivory handled carvers and knives. There is some extra space next to the sauceboats for further storage if required.
Total weight of weighable silver is 16,645 grams (535 troy ounces). Plus there are 56 silver handled knives.
Condition
Excellent polished condition throughout. The set looks to have had little use and has been well protected within the chest. All forks have full and equal length tines. All the spoon bowls retain their original tips. As described above, the carbon steel blades of the table knives have some discolouration. Each piece is in original hand-polished condition with an attractive patina. The engraved crest is crisp throughout.
Presentation
This canteen is stored within an iron bound chest or strong box. The box has two carrying handles. The security clasp to the front and has lost the loop for holding a padlock. The inside looks wonderful and is lined with green baize throughout. Each tray has two fabric carrying handles and the sauceboats within the base have their own individual fixed compartments.
Provenance
There are three clues as to the original ownership on the exterior of the box: a brass plate engraved "F.G.COLMAN ESQ.", a L.M.S.R. railway sticker for "Melton Mowbray" and part of an address label with "Col. Colman Melton Mowbray". Colonel Colman was a member of the family which owned Colman Mustard. It is said that Colonel Mustard in the board game Cluedo is named after him. He lived at Scalford Hall, 4 miles north of Melton Mowbray in Leicestershire. He was a keen huntsman, but is most famous for being a close friend of the Prince of Wales (later Edward VIII) who often sought sanctuary with Wallis Simpson at Scalford Hall during their much publicised courtship. It would therefore seem plausible that the future king would have dined at the hall and therefore used this service.
As with all the canteens available from our web-site, we are happy to send a sample place setting for approval, on receipt of a fully refundable surety payment, prior to purchasing this canteen.
PLEASE NOTE: the credit card checkout facility is not available for this item. We will only accept payment by bank transfer or cheque. Should you wish to buy this canteen, then please choose one of these options and we shall contact you with the further necessary details. Alternatively, please email or phone us to discuss the options available.