Boxed Grecian Pattern Canteen, Sheffield 1905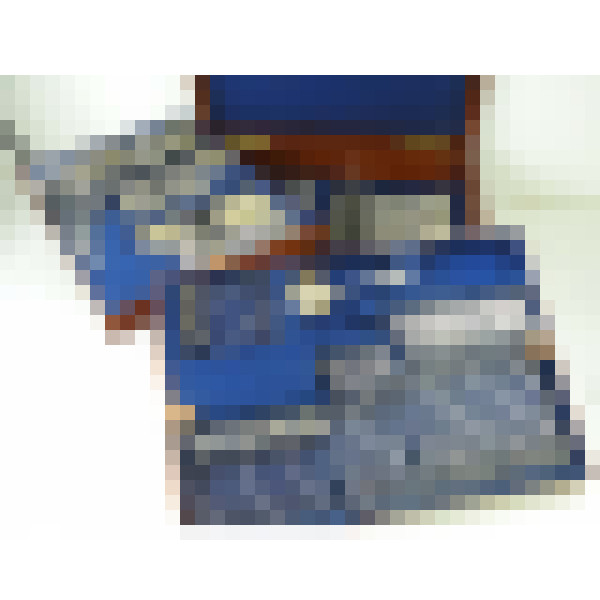 Sold
101 piece Canteen (boxed) - Grecian Pattern (12 place settings) - London 1868 by George Adams & Sheffield 1905 by Walker & Hall – Weight: 5235 grams (168.3 tr. oz.) plus bone handled knives & carvers - Ref. No.: GRC/421
The Service
We are pleased to be offering a handsome Edwardian silver 12 place settings canteen in Grecian Pattern. The service provides for seven pieces per 12 place settings with a good range of serving items.
This service comprises 72 spoons, forks and serving items in hallmarked silver and an additional 29 knives and carvers with bone handles. The service was boxed by Walker Hall and the majority of the silver is hallmarked for 1905 by Walker & Hall. 12 dessert spoons, 6 table spoons, the pair of sauce ladles and sugar tongs were made in London 1868 by George Adams. Presumably the original owners had some existing family silver that they wished to add to and have it housed in a box.
Walker & Hall would have commissioned the owners of the original dies to make all the pieces that are hallmarked 1905, so that these pieces were an identical match to those made in 1868 – other than the hallmark you cannot tell the difference!
All the silverware was hand-wrought in the traditional manner. The bone handled knives and carvers are fitted with best quality stainless steel blades.
All the silverware is engraved "A" to the front terminal.
Grecian Pattern
Grecian Pattern was designed for the Great Exhibition of 1851 at the Crystal Palace. It is typical of mid-Victorian architectural design and has a most attractive motif to the reverse of the bowls and tines.
Components
This 101-piece service consists of the following:
| | |
| --- | --- |
| 12 Table/soup Spoons | Soup Ladle |
| 12 Table/Dinner Forks | Pair Sauce Ladles |
| 12 Table/Dinner Knives | Basting Spoon |
| 12 Dessert Spoons | Sugar Sifter Spoon |
| 12 Dessert Forks | Sugar Tongs |
| 12 Dessert Knives | 6 Coffee/Egg Spoons |
| 12 Teaspoons | 5 piece Game & Meat Carving Set |
Total weight of weighable silver 5235 grams (168.3 tr. oz.) plus bone handled knives & carvers.
Condition
Excellent polished condition. No wear to spoon bowls and all fork tines are full length.
Presentation
This canteen is offered in its Edwardian wooden box. The box is lined with a navy blue baize and each piece has an individual slot to prevent scuffing with other pieces. The box has a brass shield to the centre that is engraved "A". There is an unsightly shrinkage crack across the length of the top of the box (see photo where it runs from left to right above the brass plate). The box could be replaced with anti-tarnish cutlery rolls if preferred.
There is no key, but this would be a straight forward job for a local locksmith if one is required. The box also bears the label of Walker & Hall.
As with all the canteens available from our web-site, we are happy to send a sample place setting for approval, on receipt of a fully refundable surety payment, prior to purchasing this canteen.