Boxed 84-piece Reed & Ribbon Silver Canteen of Cutlery, 1996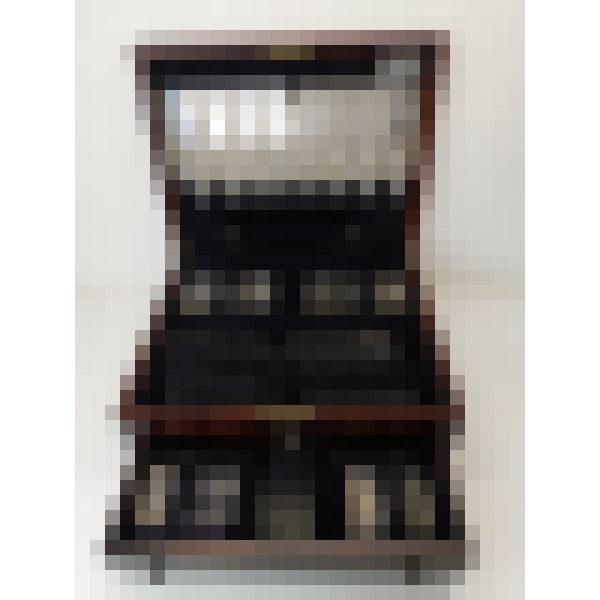 £4,995.00
84 piece Canteen – Reed & Ribbon Pattern (8 place settings) - Hallmark: Sheffield 1996 by Carrs – Weight: 4180grams (134.4 tr.oz.) + 16 knives - Ref. No.: ME/5262
Boxed 84-piece Reed & Ribbon Pattern Silver Canteen of Cutlery, Sheffield 1996 by Carrs
The Service
We are pleased to be offering an outstanding late 20th Century silver canteen of cutlery in the popular Reed and Ribbon Pattern and made by Carrs of Sheffield.
The quality of this set is superb with each piece having a good solid feeling in the hand providing an overall silver weight, not including the knives, of over 4kg!
The set provides for a full formal table service with ten pieces per 8 place settings and a set of four serving spoons. The sets of table and dessert knives have silver handles with stainless steel blades.
Every piece is hallmarked for Sheffield 1996 and bears the sponsor's mark of Carrs. The service is presented in a wooden box with a drawer with each piece having its own slot to prevent scuffing with its neighbours. The 16 knives are slotted in to the lid. The set is in superb, polished condition and appears to have had little use.
N.B. the current listed retail price for this canteen as new is £18,392!
Components
This 84-piece service consists of the following:
· 8 Fish Knives 20.8cm
· 8 Fish Forks 19.2cm
· 8 Soup Spoons 18.2cm
· 8 Table Knives 24.7cm (stainless steel blades)
· 8 Table/dinner Forks 20.7cm
· 8 Dessert Knives 21.5cm (stainless steel blades)
· 8 Dessert Forks 18.6cm
· 8 Dessert Spoons 18.8cm
· 8 Teaspoons 13.8cm
· 8 Coffee Spoons 11.8cm
· 4 Serving Spoons 20.8cm
Total weight of weighable silver 4180 grams (134.4 troy ounces) plus 16 silver handled knives.
Condition
Excellent polished condition. Near mint with minimal signs of use.
Presentation
This canteen is attractively supplied in a good quality wooden box with a single pull-out drawer. The key for locking is still present.
All our canteens are offered with a full money-back guarantee. We are also happy to send a sample place setting for approval, on receipt of a fully refundable surety payment - just phone or email your preferences. Alternatively, in-person viewings are welcome by appointment or via Zoom.