Boxed 12 Person Canteen of Silver Cutlery in Bead Pattern 108-pieces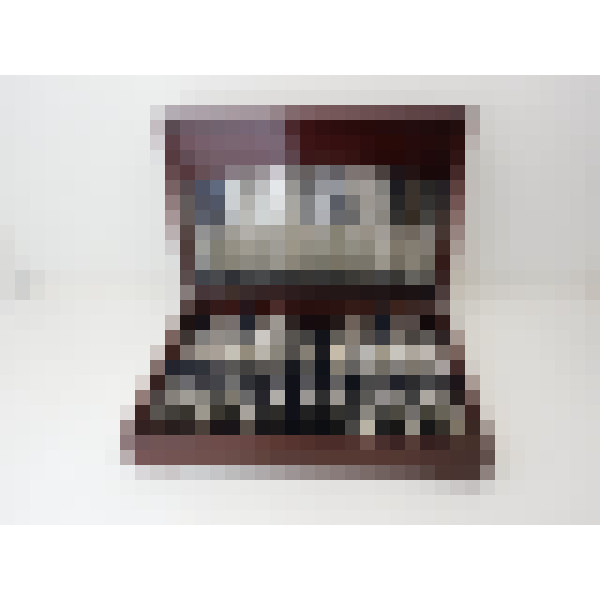 £4,495.00
108 piece Canteen – Old English Bead Pattern (12 place settings) - Hallmark: Sheffield 1992 by Carrs – Weight: 4425grams (142.3 tr.oz.) + 24 knives - Ref. No.: HR/9683b
Boxed 108-piece Old English Bead Pattern Silver Canteen of Cutlery, Sheffield 1992 by Carrs
The Service
We are pleased to be offering an excellent silver canteen of cutlery in Old English Bead Pattern. The set provides for a full formal table service for 12 people, with up to nine pieces per place setting.
The service is supplied in its original wooden box with knives inserted in to the lid and other pieces stacked in appropriate slots. All pieces are fully hallmarked for Sheffield 1992 and made by Carrs. The knives have silver handles and stainless seel blades that are engraved with the name of the maker.
Old English Bead Pattern
The plain version of Old English Pattern was first introduced circa 1770, but by 1780 new variants with minimal decoration along the edges had been introduced. Bead pattern was one of the first and has continued to be a particular favourite due to its elegant, simple form.
Components
This 108-piece service consists of the following:
12 Fish Knives 21cm
12 Fish Forks 17cm
12 Table/dinner Knives 24.5cm
12 Table/dinner Forks 19.5cm
12 Dessert Knives 21.5cm
12 Dessert Forks 17.7cm
12 Dessert Spoons 18cm
12 Teaspoons 13.6cm
12 Coffee Spoons 11.8cm
Total weight of weighable silver 4425 grams (142.3 troy ounces) plus 24 silver handled knives.
Condition
Excellent condition. Minor surface scratches shows signs of minimal use.
Presentation
This canteen is supplied in its original wooden box.
All of our canteens are offered with a full money-back guarantee. We are also happy to send a sample place setting for approval, on receipt of a fully refundable surety payment - just phone or email your preferences. Alternatively, in-person viewings are welcome by appointment.