102-piece Cypress Pattern Silver Cutlery Set for 12 by Georg Jensen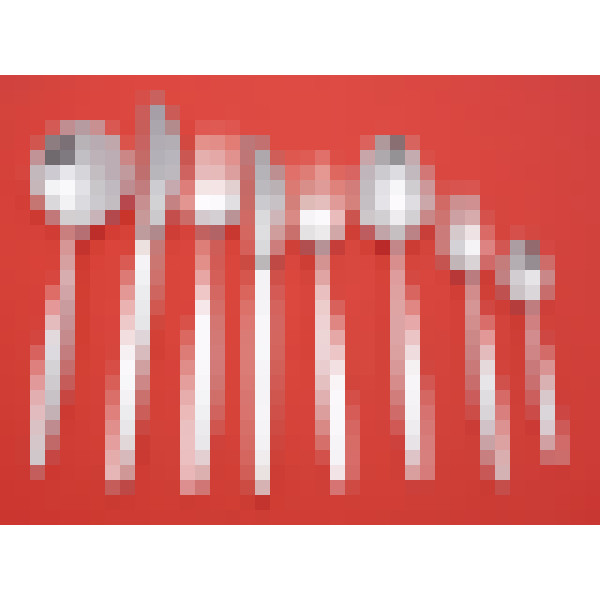 £5,950.00
102-piece Canteen - Cypress Pattern (12 place settings) - Hallmark: Post 1945 by Georg Jensen – Weight: 3205 grams (103 troy ounces) plus 24 knives - Ref. No.: QA/4794
102-Piece Cypress Pattern Canteen of Sterling Silver Cutlery, 1950's by Georg Jensen
The Service
This is an elegant full canteen of sterling silver for 12 people made by Georg Jensen in the popular Cypress pattern. The service provides for up to eight pieces per 12 place settings with a good range of serving items.
All the pieces were made by Georg Jensen and bear the post-1945 Jensen workshop Sterling mark.
Cypress Pattern
This elegant flatware pattern was designed for Georg Jensen in 1953 by Tias Eckhoff. This was at the height of the Scandinavian influence on modern interior design and its simple but stylish lines continue to be popular today.
Georg Jensen
Georg Jensen was a Danish silversmith who opened his first silver workshop in 1904 in Copenhagen. He was to become the most renown maker of silverware in the World with shops in London, Paris, New York, Berlin and Stockholm. His company embraced the Art Deco movement of the 1920's, 30's & 40's and were a major player in developing the Scandinavian modernistic styles of the 50's and 60's. Many of the Jensen flatware patterns have endured the test of time and remain highly popular today.
Components
This 102-piece service consists of the following:
12 Soup Spoons 17.8cm
12 Table Knives 22.5cm (stainless steel blades)
12 Table/dinner Forks 19cm
12 Dessert Knives 20cm (stainless steel blades)
12 Dessert Forks 17cm
12 Dessert Spoons 17.8cm
12 Cake Forks 14.7cm
12 Coffee Spoons 11.2cm
2 Salad Serving Spoons 21.5cm
2 Sauce Ladles 20.6cm
Serving Fork 21cm
Pie/Cake Slice 22.2cm
Total weight of weighable silver 3205 grams (103 troy ounces) plus 24 silver handled knives.
Condition
The service has been hand-polished is in fine original condition. It benefits from having no personalised engravings to the pieces.
Presentation
This canteen is supplied in new navy blue anti-tarnish cutlery rolls.
As with all the canteens available from our web-site, we are happy to send a sample place setting for approval, on receipt of a fully refundable surety payment, prior to purchasing this canteen.