Silver Canteen for 12 with Engraved Crest, 1904 GJ/DF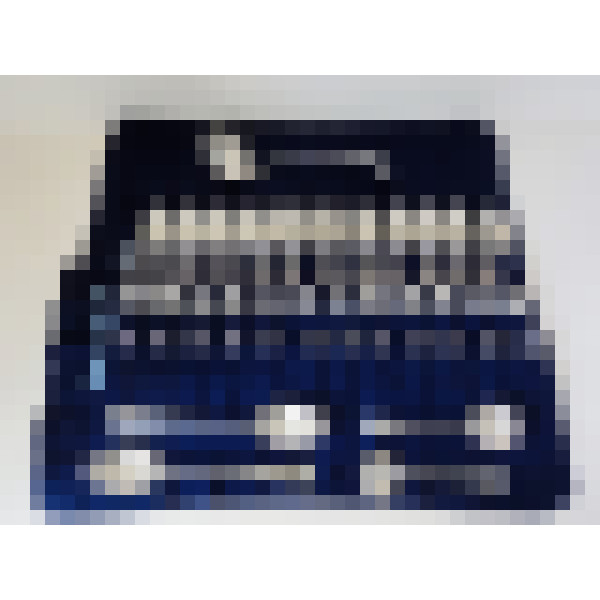 £3,495.00
53 piece Canteen – Old English Pattern (12 place settings) - Hallmark: London 1904-06 by Jackson & Fullerton – Weight: 3460grams (111.25tr.oz.) - Ref. No.: OB/3300
53-piece Silver Old English Pattern Canteen of Cutlery, London 1904-06 by George Jackson & David Fullerton
The Service
We are pleased to be offering a straight 12 place settings Edwardian period silver cutlery service in Old English Pattern with all pieces made by the best flatware makers of the early 20th century.
With its plain and stylish appearance, this is a beautifully elegant service that includes traditional oval bowled table spoons (useful either for soup or as serving spoons) and a good selection of large serving pieces: a large and satisfyingly hefty soup ladle, a pair of 12" long basting spoons that are also ideal for serving and a pair of useful sauce ladles.
Each piece in this service is engraved to the front terminal with a crest featuring a dagger piercing a laurel wreath. We can supply complementing knives (without crest) on request.
Old English Pattern
Old English Pattern was first introduced circa 1770 and has always been a very favoured pattern due to its elegant and simple form. It has been produced continually to the present day with a resurgence of popularity in the early 20th Century.
The Maker
Jackson & Fullerton were one of the premier specialist silver flatware makers of the late 19th and early 20th centuries and any silver flatware bearing their mark will be of the finest quality. The company traded under the name of Josiah Williams & Co. (the original founder) and was prolific in its output and always produced the best quality silver flatware available. The spoons, servers and forks were all hand forged to ensure balance and durability, and were made from a good gauge of silver to give them a nice hefty weight in the hand
Components
This 53-piece service consists of the following:
| | |
| --- | --- |
| 12 Soup Spoons (oval bowls) 21.5cm | 2 Basting/Serving Spoons 29.3cm |
| 12 Table/dinner Forks 20.2cm | Soup Ladle 34cm |
| 12 Dessert Forks 17.3cm | 2 Sauce Ladles 19cm |
| 12 Dessert Spoons 17.6cm | |
Total weight of weighable silver 3460 grams (111.25 troy ounces).
Condition
Excellent polished condition with full length tines and unworn spoon bowls.
Presentation
This canteen is offered within four new anti-tarnish cutlery rolls with individual pockets to hold up to 12 items. The servers are sold loose.
As with all the canteens available from our web-site, we are happy to send a sample place setting for approval, on receipt of a fully refundable surety payment, prior to purchasing this canteen.