Silver 74 piece Bead Pattern Canteen of Cutlery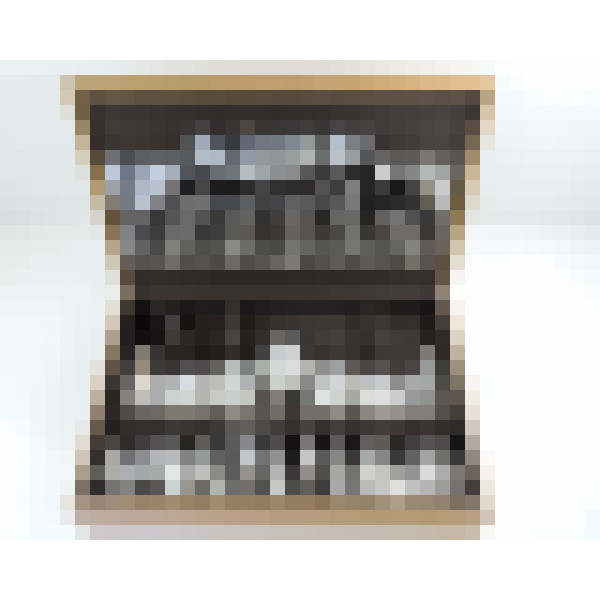 £3,495.00
74 piece Canteen – Old English Bead Pattern (8 place settings) - Hallmark: Sheffield 1985 by Yates Brothers – Weight: 3550grams (114 tr.oz.) - Ref. No.: PS/4462a
74-piece Silver Bead Pattern Canteen of Cutlery, Sheffield 1985 by Yates Brothers
The Service
We are pleased to be offering an excellent late 20th Century silver 8 place settings canteen of cutlery in Old English Bead Pattern. The service provides for nine pieces per 8 place settings.
Every piece is hallmarked for Sheffield 1985 by Yates Brothers and benefits from having no personalised engravings to them. This service includes fish eaters to give a standard formal British dinner service. The table and dessert knives are fitted with stainless steel blades.
Components
This 74-piece service consists of the following:
| | |
| --- | --- |
| 8 Fish Knives 20.7cm | 8 Dessert Knives 21.8cm |
| 8 Fish Forks 16.8cm | 8 Dessert Forks 17.7cm |
| 8 Soup Spoons 17.5cm | 8 Dessert Spoons 18cm |
| 8 Table/dinner Knives 24.5cm | 8 Teaspoons 13.8cm |
| 8 Table/dinner Forks 19.4cm | 2 Serving Spoons 22cm |
Total weight of weighable silver 3550 grams (114 troy ounces). Plus 16 silver handled knives.
Condition
Excellent mint condition. The silver appears to have never been used.
Presentation
This canteen is supplied within its original wooden box. There is a very tiny chip in the veneer to one corner (a very minor issue).
All our canteens are offered with a full money-back guarantee. We are also happy to send a sample place setting for approval, on receipt of a fully refundable surety payment - just phone or email your preferences. Alternatively, in-person viewings are welcome by appointment or via Zoom.