Build Your Own Old English Pattern Silver Service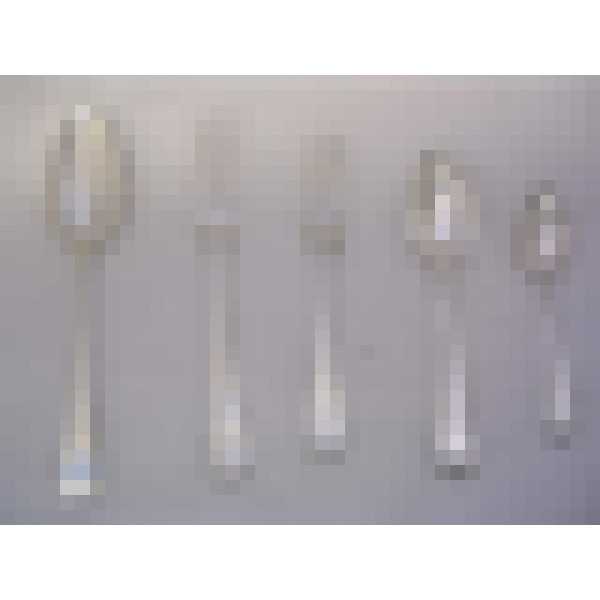 £290.00
Build your Canteen – Old English Pattern (6 to 24 place settings) - Hallmarks: London 1840 – 1882 by George Adams – Ref. No.: GAOE/1000
The Service
This service can be tailored made to suit your own requirements. We can supply the exact number of place setting required from 6 to 24 or more subject to current stock levels. We can also change the structure of the service, so that if more of one particular item is required or none of another, then we can work out a price accordingly.
THE PRICE OF £290 WILL BUY ONE PLACE SETTING consisting of a table spoon, table fork, dessert spoon, dessert fork and teaspoon. A full 60 piece canteen with 12 place settings will cost £290 x 12 = £3480. You can work out the price of a suitable service for your needs using the same principle. Please contact us for further details.
Knives can be supplied as an optional extra either as 20th century "bone" handled or new silver handled Old English Pattern.
All the spoons and forks were hand wrought in London during the Victorian period by the most important company of silver flatware makers of the period – Chawner & Company – under the leadership of George W Adams (working period 1840 to 1882). All pieces bear his "GA" makers mark.
All pieces are supplied in excellent polished condition with no personalised engravings to them.
Old English Pattern
Old English Pattern was first introduced circa 1770 and has always been a very favoured pattern due to its elegant and simple form. It has been produced continually to the present day with a resurgence of popularity in the early 20th Century.
Components
The components of your service can consist of the following:
| | |
| --- | --- |
| Table/dinner Forks | Dessert Spoons |
| Table Spoons | Teaspoons |
| Dessert Forks | |
Knives
We can offer a choice of knives with this service should you require them.
24 bone handled Knives (12 table & 12 dessert) - £240
24 New Silver Handled Old English Pattern Knives (12 table & 12 dessert) - £1680
Please contact us for extra details.
Optional Extras
Furthermore, we carry an extensive range of Old English Pattern by George Adams in stock – both serving and dining items. Serving items available include:-
| | | |
| --- | --- | --- |
| Soup Ladle | Serving Tongs | Sugar Spoons |
| 12" Basting Spoons | Butter Knives | Salt Spoons |
| Sauce ladles | Egg Spoons | Mustard Spoons |
| Fish Servers | Sugar Tongs | |
Plus others….
We will be happy to quote for any additional pieces that may be required to suit your needs.
Condition
Excellent polished condition.
Presentation
This canteen is offered loose. We can supply anti-tarnish cutlery rolls on request. These navy blue rolls have individual pockets to hold 12 items per roll and are available for £21 each.
As with all the canteens available from our web-site, we are happy to send a sample place setting for approval, on receipt of a fully refundable surety payment, prior to purchasing this canteen.