Bjorn Wiinblad Designed 1960's Silver Cutlery Service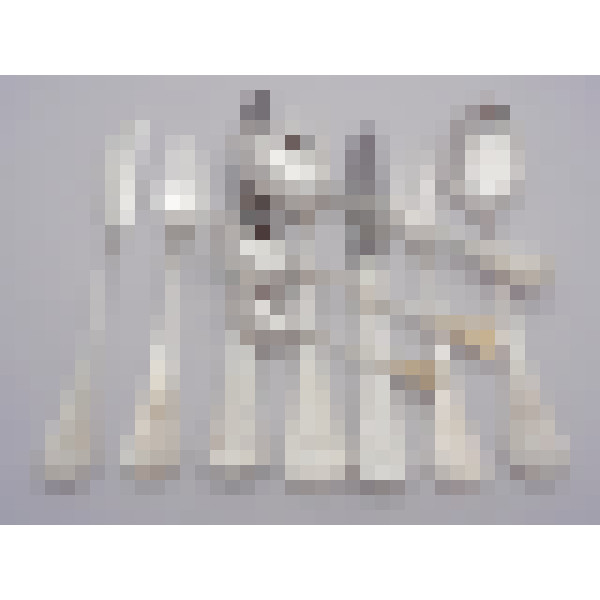 £3,675.00
76 piece Canteen - Romanze Pattern (8 place settings) - Hallmark: London 1965-70 import hallmarks (made by Rosenthal in Germany) – Weight: 2875 grams (92.4 tr. oz.) plus 16 silver-handled knives - Ref. No.: PC/3348
76-piece Romanze Pattern Canteen of Silver Cutlery,
Late 1960's by Rosenthal
The Service
We are pleased to be offering a funky, late 1960's designer silver 8 place settings canteen in Romanze Pattern. The service provides for eight pieces per 8 place settings with addition tea and coffee spoons.
This fabulous pattern was created by the Danish designer Bjorn Wiinblad for Rosenthal the German porcelain manufacturers as part of their Romanze series. More can be found about Bjorn Wiinblad at this link: https://en.wikipedia.org/wiki/Bj%C3%B8rn_Wiinblad
The cutlery service comprises 76 pieces each of which bears the Rosenthal name, the German 925 silver guarantee mark and a London import hallmark (this was compulsory to allow the service to be sold in the UK).
All the pieces have a striking design of graduated ovals to the front terminal (both sides of the knife handles) and a lovely additional touch is the gilt (gold plated) ovals on the tea and coffee spoons. At over 15cm long, the teaspoons are a good size and could be used for small portion dessert such as mousse, creme brulee etc. The knives are fitted with good quality stainless steel blades.
A fabulous set of table cutlery.
Components
This 76-piece service consists of the following:
| | |
| --- | --- |
| 8 Fish Knives 19.1cm | 8 Dessert Knives 20.7cm |
| 8 Fish Forks 17.7cm | 8 Dessert Forks 17.6cm |
| 8 Table/soup Spoons 20.4cm | 8 Dessert Spoons 18.1cm |
| 8 Table/Dinner Knives 23.2cm | 6 Teaspoons 15.2cm |
| 8 Table/Dinner Forks 20cm | 6 Coffee Spoons 10.7cm |
Total weight of weighable silver 2875 grams (92.4 tr. oz.) plus16 silver handled knives with stainless steel blades.
Condition
Excellent polished condition with very little use. No wear to spoon bowls and all fork tines are full length.
Presentation
This canteen is offered in new anti-tarnish blue cutlery rolls. Each roll can hold up to twelve pieces providing scope to add further pieces to the service.
All of our canteens are offered with a full money-back guarantee. We are also happy to send a sample place setting for approval, on receipt of a fully refundable surety payment - just phone or email your preferences. Alternatively, in-person viewings are welcome by appointment or via Zoom.