1851 Albert Pattern Silver Canteen of Cutlery, 74 pieces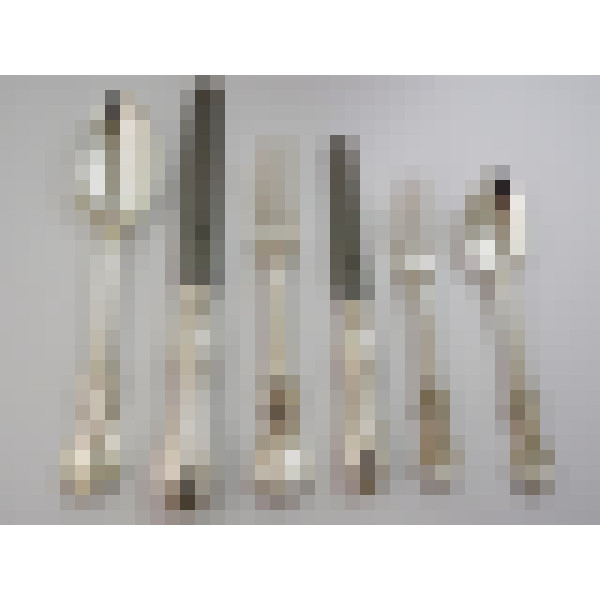 £5,595.00
74-piece Canteen - Albert Pattern (12 place settings) - London 1851 by George Adams - Weight: 4410grams (141.8 tr.oz.) + 24 knives - SG/1386
74 piece Albert Pattern Canteen of Cutlery, London 1851 by George Adams
The Service
This is an outstanding antique silver dining service made in a very desirable pattern. It is a rare opportunity to buy a Victorian period, silver canteen in Albert Pattern. The service provides for six pieces per 12 place settings with a superb pair of 12" basting spoons.
All the spoons and forks were hand-wrought in the traditional manner and made by the premier specialist silver flatware maker of the 19th century – George Adams of Chawner & Company. This is a straight service of spoons and forks with all pieces made in London, in the same year, by the same maker.
A major bonus for this service is the wonderful engraved crest to the front terminals of the spoons and forks which features a burning mountain with the Latin motto "Luceo non Uro" (translates to "Shine not Burn").
Complementing the set are twenty-four fabulous Victorian knives. These are large knives of the very best quality and knives such as this are very difficult to find in such fine condition. All twelve table knives and six of the dessert knives were made by the top maker Francis Higgins, hallmarked for London 1861-64 and retailed by the prestigious crown jewellers, Hunt & Roskell (engraved to the blades). These are all engraved with a script monogram to the handles. The remaining 6 dessert knives were made in Sheffield 1906 by Frank Cobb and Company and are free from engravings. All these knives have a good, hefty weight and are a truly fabulous lot.
Albert Pattern
Albert pattern is considered a member of the King's pattern family of flatware patterns. It has the same shape to the handle, although the style of decoration is completely different. The other shared feature with King's pattern is the substantial gauge of silver required for the double-struck decoration (i.e. patterned to both sides) and the consequently hefty weight in the hand.
Albert Pattern was designed in the late 1830's and named in honour of Queen Victoria's husband, the Prince Consort. It is in the Victorian rococo revival style and is one of the most sought after patterns of the 19th century.
The Maker
Chawner & Company was founded in 1815 by William Chawner, on the solid grounding of an apprenticeship and later partnership within the most important line of specialist spoon and forks makers dating back to the mid-18th century.
Chawner & Company became the largest and most important specialist silver flatware makers of the 19th Century. In 1840, George W Adams took over the business from his mother-in-law Mary Chawner and developed the company even further using his "GA" maker's mark. They introduced new flatware patterns and fashioned silver for important private clients and high end retailers.
The company was prolific in their output and always produced the best quality silver flatware available. The spoons and forks were hand forged to ensure balance and durability, and were made from a good gauge of silver to give them a nice hefty weight in the hand. The reputation of Chawner & Company endures to this day and a canteen wrought by them will give maximum satisfaction.
Components
This 74-piece service consists of the following:
| | |
| --- | --- |
| 12 Table Knives 27.7cm | 12 Dessert Forks 18cm |
| 12 Table/dinner Forks 20.8cm | 12 Dessert Spoons 18cm |
| 12 Table/Soup Spoons 23cm | Pair Basting Spoons 31cm |
| 12 Dessert Knives 22.2cm | |
Total weight of weighable silver 4410 grams (141.8 troy ounces).
Options
We have a set of six matching teaspoons in stock bearing the same crest – although silver they are not hallmarked – cost £180.
We also have a late 20thC set of twelve Albert pattern round bowled soup spoons (no crest) that may come in useful.
Condition
Superb polished condition - rarely do Victorian services exist in such fine condition. The double struck decoration remains crisp throughout. The forks tines retain their original full and equal length and the spoon bowls are unworn. The crests are crisp throughout.
Presentation
This canteen is presented in new anti-tarnish cutlery rolls.
All our canteens are offered with a full money-back guarantee. We are also happy to send a sample place setting for approval, on receipt of a fully refundable surety payment - just phone or email your preferences. Alternatively, in-person viewings are welcome by appointment or via Zoom.