170 piece Laceback Trefid Silver Canteen, Charles II Pattern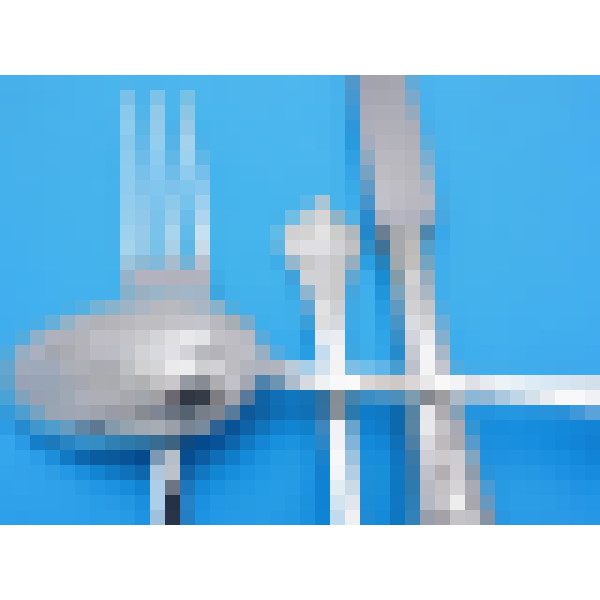 £8,250.00
170 piece Canteen – Laceback Trefid Pattern (12 place settings) - Hallmark: Sheffield 1997 by Roberts & Belk – Weight: 6050 grams (195 tr.oz.) + 54 knives - Ref. No.: LY/2185
170 piece Laceback Trefid Silver Canteen of Cutlery,
Sheffield 1997 by Roberts & Belk
The Service
We are pleased to be offering an outstanding quality silver 12 place settings canteen in Laceback Trefid Pattern (also known as Charles II pattern). The service provides for a comprehensive twelve pieces per 12 place settings with an extensive range of serving items.
This canteen caters for a formal meal with a full complement of fish eaters and a particularly useful array of knives – the addition of steak knives and an extra set of dessert knives (perfect as side/cheese knives) means that there will be plenty of knives available. The servers include a magnificent soup ladle and a good range of practical pieces.
This is a straight service made by Roberts & Belk with all pieces hallmarked for Sheffield 1997. The knives are fitted with stainless steel blades that are engraved "Warris Sheffield England" – Warris being a long-established Sheffield cutler. As one would expect, the fish knives are made of silver throughout.
Each piece in this service has a good hefty weight and it simply oozes high quality. There are no personalised engravings.
Lace-back Trefid Pattern
The latter years of the 17th century saw the introduction in the UK of the first flatware patterns for dining and the first use of the fork (previously just a spoon and knife was used). The Trefid pattern with its trefoil terminal is recognised to be the first true flatware pattern and the earliest form of fork is found in this style.
A popular variant of the Trefid pattern, commissioned by the wealthiest and most avant garde clientele, was the laceback with the extravagantly decorated scrolls to the reverse of the bowls and front of the handle terminal. The table spoons in this service are particularly faithful copies of the 17th century originals. The earliest forks had three prongs, (as per those in this set) and it was not until the mid-18th century that four pronged forks were first used.
Due to the first period of production for laceback trefid being the 1670's and 1680's, this pattern is also known as "Charles II pattern".
Components
This 170-piece service consists of the following:
| | |
| --- | --- |
| 12 Soup Spoons 17.3cm | 12 Coffee Spoons 11.3cm |
| 12 Side Knives 21.5cm | 6 Table/serving Spoons 21cm |
| 12 Fish Knives 20cm | 6 Table/serving Forks 21cm |
| 12 Fish Forks 18cm | Soup Ladle 27.5cm |
| 12 Table Knives 25cm | 2 Salad Servers 22cm |
| 12 Steak Knives 25cm | Sauce Ladle 17.2cm |
| 12 Table/dinner Forks 21cm | 2 Sauce/cream Ladle 15cm |
| 12 Dessert Forks 17.5cm | 2 Butter Knives 15.7cm |
| 12 Dessert Knives 21.5cm | 2 Cheese Knives 20.1cm |
| 12 Dessert Spoons 18cm | Cake/pie Serving Slice 25cm |
| 12 Teaspoons 13.5cm | 3-piece Carving Set 27-33cm |
Total weight of weighable silver: 6050 grams (195 troy ounces). Additional to this weight are the 54 silver handled knives and carving set.
Condition
Excellent original condition with some minor scratching from use.
Presentation
This canteen is presented in fourteen anti-tarnish cutlery rolls (large items are loose). These royal purple rolls have individual pockets to hold 12 items per roll.
As with all the canteens available from our web-site, we are happy to send a sample place setting for approval, on receipt of a fully refundable surety payment, prior to purchasing this canteen.