12 Place Settings Fiddle Pattern Silver Canteen of Cutlery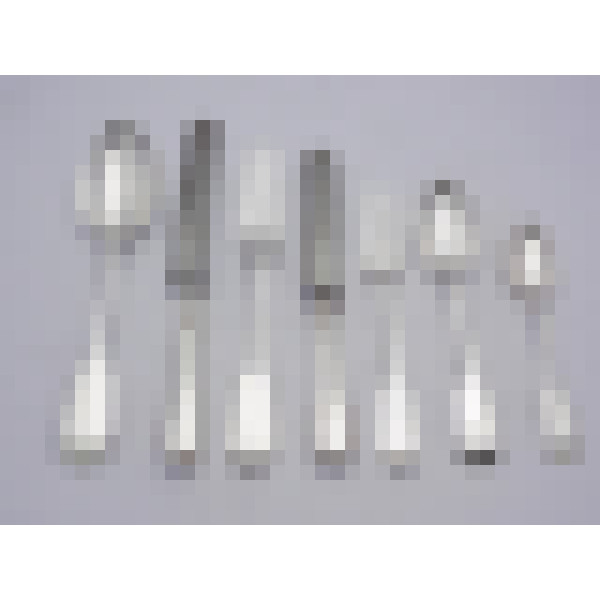 £4,695.00
84 piece Canteen – Fiddle Pattern (12 place settings) - Hallmark: London 1840 - 82 by George Adams (knives: Sheffield 2006 by Barker Dixon) – Weight: 3240 grams (104 tr.oz.) - Ref. No.: GA/3299
84-piece Fiddle Pattern Canteen, London 1840-82 by George Adams
The Service
We are pleased to be offering a top quality, Victorian period silver 12 place settings canteen in Fiddle Pattern with all the spoons and forks made by the same maker and every item being in excellent polished condition with no engravings.
The service provides for seven pieces per 12 place settings with serving pieces as optional extras.
All the spoons and forks were hand wrought in London and made by the premier flatware specialist George Adams of Chawner & Company between 1840 and 1882. The soup spoons are in the standard oval bowled form of the 19th century where soup was supped from the side of the bowl – these table spoons are also useful for serving purposes. The teaspoons are 5.75" long and can also have a dual purpose for use with certain desserts (e.g. mousse and creme brulee).
Antique knives rarely survive in good condition, so we are offering this service with 24 modern silver handled knives with the complementing fiddle-shape. They are hallmarked Sheffield 2006 by Barker Dixon. These have the benefit of being in fine condition and are fitted with practical stainless steel blades.
The service could be further enhanced by adding serving pieces that we have in stock, also by George Adams – see below for details.
Fiddle Pattern
Fiddle Pattern was the dominant flatware pattern of 19th Century Britain. It was by far the most popular pattern from 1810 until 1880. Production was largely discontinued in 1914, as the original dies for hand wrought fiddle pattern were destroyed during the First World War. As the pattern has rarely been made since, the design is distinctively 19th Century and is extremely popular today for people wishing to own antique cutlery.
The Maker
All the spoons and forks were hand wrought in London during the Victorian period by the most important company of silver flatware makers from the period – Chawner & Company – under the leadership of George W Adams (working period 1840 to 1882). All pieces bear his "GA" makers mark.
Components
This 84-piece service consists of the following:
| | |
| --- | --- |
| 12 Table/dinner Knives 25.2cm | 12 Table/soup Spoons 21.8cm |
| 12 Dessert Knives 21.8cm | 12 Dessert Spoons 18cm |
| 12 Table/dinner Forks 20.7cm | 12 Teaspoons 14.7cm |
| 12 Dessert Forks 17.6cm | |
Total weight of silver 3240 grams (104 troy ounces).
Optional Extras
We have a large selection of fiddle pattern by George Adams and can supply further dining pieces to augment this service or serving pieces to complement it. The servers include: soup ladle, sauce ladles, 12" basting spoons, serving fork, fish slice, butter knife, sugar tongs, sugar shovel, mustard spoon, salt spoons etc. We could also add a set of egg spoons that can double up as coffee spoons.
Further details can be provided on request.
Condition
Excellent polished condition with no engravings throughout.
Presentation
This canteen is offered in seven new anti-tarnish cutlery rolls. These navy blue rolls have individual pockets and hold 12 items each.
As with all the canteens available from our web-site, we are happy to send a sample place setting for approval, on receipt of a fully refundable surety payment, prior to purchasing this canteen.